The Biggest Mistake Men Make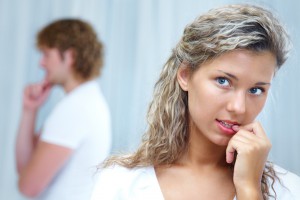 You're the man. You need to set in stone the plans that you make with women. For instance, if you talk to a woman on Tuesday and make plans for Thursday, and you don't set a time for the date, don't expect her to call you about it on Thursday and ask, "What time?"
Whenever you set a date, you need to tell her plain and simple when you're one the phone with her, "Hey Thursday, let's hang out at 8:00 at Joe's Bar and Grill…" You set that date when you're talking because otherwise, if you don't do that, you're creating more steps and you're creating stress.
As a man, you need to lead. Always need to lead to get her excited about the date.
At the end of the date, capitalize. When is the time that she is emotionally connected to you to the most? At the end of the date. What do most guys do wrong at the end of the date? They look at her and they think to themselves, "I don't want to be over-anxious right now." And they walk away.
Maybe they give her a little kiss and they allow her to go back to her friends and recap the entire date. That's when all hell seems to break loose because the second she recaps the date is the second she gets into her head and starts thinking that maybe you're not right for her.
So here's the deal: if you like her and you want to see her again, always close her at the end of the first date with a second date. Look at her, give her a kiss on the lips and pull back and then just go, "Hey, you know that jazz party you were talking about, let's go Thursday."
Make it fun, make it simple and close the deal because then she'll tell her friends this story. God, I had such a great time and he asked me out for Thursday instead of, had a good time but I don't know — he just didn't ask me out. Just didn't seem like he was interested. Don't let her get into her head.
And don't worry about when you're going to sleep with her because you're just going to put too much pressure on it. When you date, if you go out, and you do exactly what I said above, close her for the next date. Set up a great date that's fun. Kiss her. Touch her a little bit. Guess what happens? You're not going to think about when to sleep with her. It's just going to happen naturally.
You need to get the idea out of your head that you need to sleep with her by the end of the third date. It doesn't mean a thing. Sometimes you'll sleep with her at the end of a first date; sometimes you'll sleep with her by the end of third; and sometimes, at the end of a fifth date. It's all about creating momentum.
Dating is all about momentum. Women look forward to it. It's creating a story for them in their heads. They want it flow. We met at a Whole Foods. We exchanged numbers. He called me the next day, asked me if I liked the food. We talked. We met. He turned me on…
It's all about momentum. You want to create a story because she wants a story; she wants to see the pieces of that story to come together.
Every relationship you've ever had, when it comes down to dating, has something called momentum to it. Learn the art of momentum. Go for it, and stop thinking about what people say and what women say.
But momentum begins with you. Conquer that woman. Take her on that journey, and she's going to be turned on to you. That's how you make dates work.